How to solve allergies at home?
Foreword:

You should feel safe and secure at home. Seasonal allergies often take that sense of security away from you, leaving you sneezing and itching all day with no relief. The good news is that you can learn how to reduce allergens in your home by cleaning and using products that help relieve airborne allergens.
What causes allergies?
The bad news is that allergens found in the home are usually not seasonal allergies. They are in your home year-round. These are some of the most common allergens lurking in your home.

Pollen - Many people are surprised to hear that pollen can build up in your house. You bring it to your clothes and hair. It's also easy to bring your furry friend in when they're running outside.

Dust mites - Dust mites are most commonly found in bedrooms. These mites are so small that they are invisible to the human eye. They like damp environments like carpets and bedding.

Insects - To most people, cockroach allergens sound like something out of a horror movie. These allergens spread more than dust mites because cockroaches are very fast and mobile. Their waste is usually hidden in cracks and crevices. Accessing all their hidden spaces is not easy.

Mold - Mold spores are easily spread through the air in your home. When you inhale this mold, the spores can cause allergy symptoms. You usually find mold in damp corners of your home.

Pet Allergens - Your pet's favorite spaces, such as their bed or dining area, often hold many types of allergens. Your pet may also bring in allergens from outside. You may feel symptomatic sitting next to your pet due to their fur, pet dander, and even their saliva.

How to Get Rid of Allergens in Your Home?
1. Vacuum reduces allergens
Vacuuming is the key to removing dirt and allergens. Carpets and furniture tend to collect more dust in the home. The Neabot Q11 is the best allergy robot vacuum. It has a suction power of 4,000 Pa and can hold the smallest particles so they don't fly through the air into your lungs. Neabot Q11 can also switch to antibacterial mopping function. You should vacuum a few times a week to make sure your home is free of dust and dander.
2. Wash bedding
While dust mites are invisible to the naked eye, dust mites thrive in your bedding. They live off rugs, bedding and pillows. It is vital to reduce allergens in your bedroom by washing your bedding with hot water at least once a week. Dry them on high heat to kill dust mites.

3. Prevents mold and mildew
Floating mold and mold spores can trigger allergy problems in many people. You can minimize these allergens by replacing wallpaper with tile or painting your walls with mildew-resistant paint. You can turn on the exhaust fan after showering and dry the shower with a towel. It's important to wipe mold off bathroom surfaces and watch for mold growth on shower curtains.

4. Pollen Prevention
It's hard to keep pollen from getting into your home. You should close doors and windows as much as possible. Between 5 am and 10 am, the plants emit pollen. Try to stay indoors when pollen counts are at their peak. Change clothes and take a shower after coming in from outside. Allergy cleaning doesn't always remove tiny pollen, but it can help prevent pollen buildup in your home.
5. Pest control
Use baits and traps or boric acid to get rid of insects in your home. Do not use chemical pesticides that may affect your allergy symptoms. Always store food in airtight containers and dispose of in the trash.

6. Wear a Mask
It'll keep allergens from getting into your airways when you can't avoid certain allergy triggers, like when you work in your yard or vacuum. An N95 respirator mask, available at most drugstores and medical supply stores, will block 95% of small particles, such as pollen and other allergens.

How to Minimize Allergies and Treatment at Home?
1. High efficiency filter
High-efficiency particulate air (HEPA) filters are great for capturing any air irritants in your home. These HEPA filters remove airborne allergens like pet dander. You can also get portable filters to help clean the air in smaller spaces.

2. Salt water spray
Saline Nasal Spray delivers saline evenly and gently to your body. A saline spray helps keep your nose clean and free of lurking allergens. They help with allergies and other sinus problems.

3. Raw honey
Eat honey produced by local bees. These bees are the same bees that convert pollen into honey in your area. If you eat a little of this honey every day, your body will react naturally to this effect. There isn't much scientific research to support this idea, but many people swear it helps their allergies.
In conclusion!!!
These tips for allergy sufferers will help you through the toughest of allergy seasons. You shouldn't be fighting allergens at home. By following these tips, you'll be able to breathe easier at home while rooting out allergies in your home with the help of Robot Vacuum Cleaner.
Below are some recommended options for you to choose from:
1. Neabot Q11 4000Pa Self-Emptying Robot Vacuum
Features:4000Pa | 2.5L Self-Emptying Dustbin | 4 Advanced Beam LiDARs | dToF Detection | 3D Mapping | 300ML Water Tank
Recommended reason: Most competing products in the market are between 1,000pa and 2,000pa. Neabot Q11 boasts a suction power of 4000Pa. This may seems unreal considering its compact size. But that's what NEABOT Q11 is. (View Compare)
2. Neabot NoMo N2 Self-emptying 3-in-1 Robot Vacuum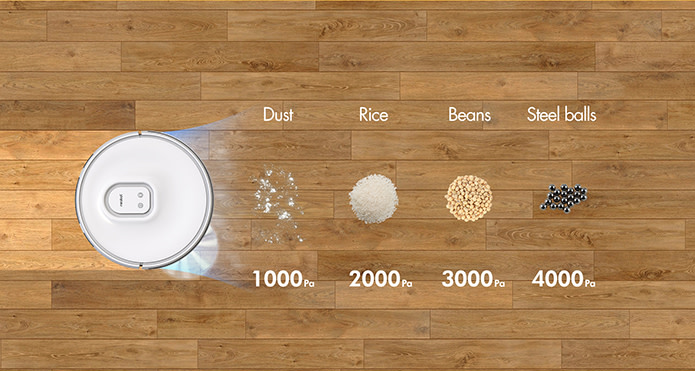 Features:2700Pa | 2.8L Self-Emptying Dustbin | Sweep, Mop & Vacuum 3 in 1 | LDS8.0 LiDAR | LED Display | 250mL Water Tank | iOS and Android
Recommended reason: Whether it's flour, grains, beans or even marble, the powerful Neabot N2 handles it with ease. The place the Neabot N2 passes is spotless. Now you don't have to worry about your kids running around the house barefoot, rooting out allergies at home. 
Read More: https://neabot.com/blogs/all
---