Launched Neabot NoMo Q11 on Indiegogo in US, June 2021
Notice:
「The following content is brought to you by indiegogo.com
on June 02, 2021」
Neabot Q11 4000Pa Self-Emptying Robot Vacuum & Mop
4000Pa | 2.5L Self-Emptying Dustbin | 4 Advanced Beam LiDARs | dToF Detection | 3D Mapping | 300ML Water Tank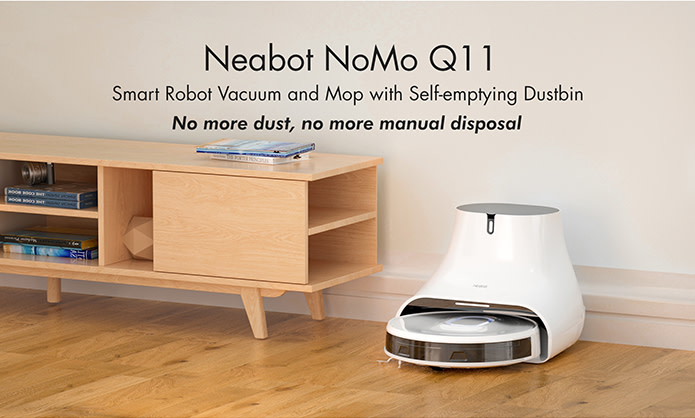 In the times of IoT, everything seems to be connected and smart. Unfortunately, robot vacuum cleaners available in the market are just not quite there yet. They fall short to completely free up our hands from house cleaning because of their deficiency in obstacle avoidance, deep cleaning, house mapping etc. Neabot NoMo Q11 lifts the AI obstacle avoidance technology to a whole new level. It utilizes 3D scanning & mapping instead of 2D that's widely used by competing products. Together with the most advanced route planning algorithm, Neabot Q11 plans better cleaning routes than any other robot vacuums and achieves an industry-high cleaning rate of 91%. The compact  body, 3.4-inch in height, easily gets under beds and sofas. Its unbeatable suction power of 4000Pa is one of the strongest on the market. When getting on carpet, it automatically boost the suction to give the carpet a much more thorough cleaning. Q11 comes with an interactive APP of its own, on which you can easily set the cleaning areas or the no-go zones. We've had noise reduction in mind from day one, so that you and your family can have your life/work undisturbed while Neabot Q11 gets your house cleaned up. In addition to all above wonderful features, the uniqued design of Q11 stands out in a very visually pleasing way.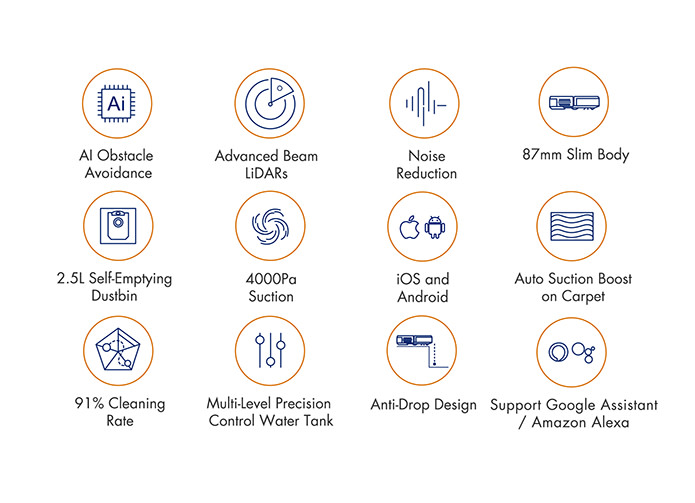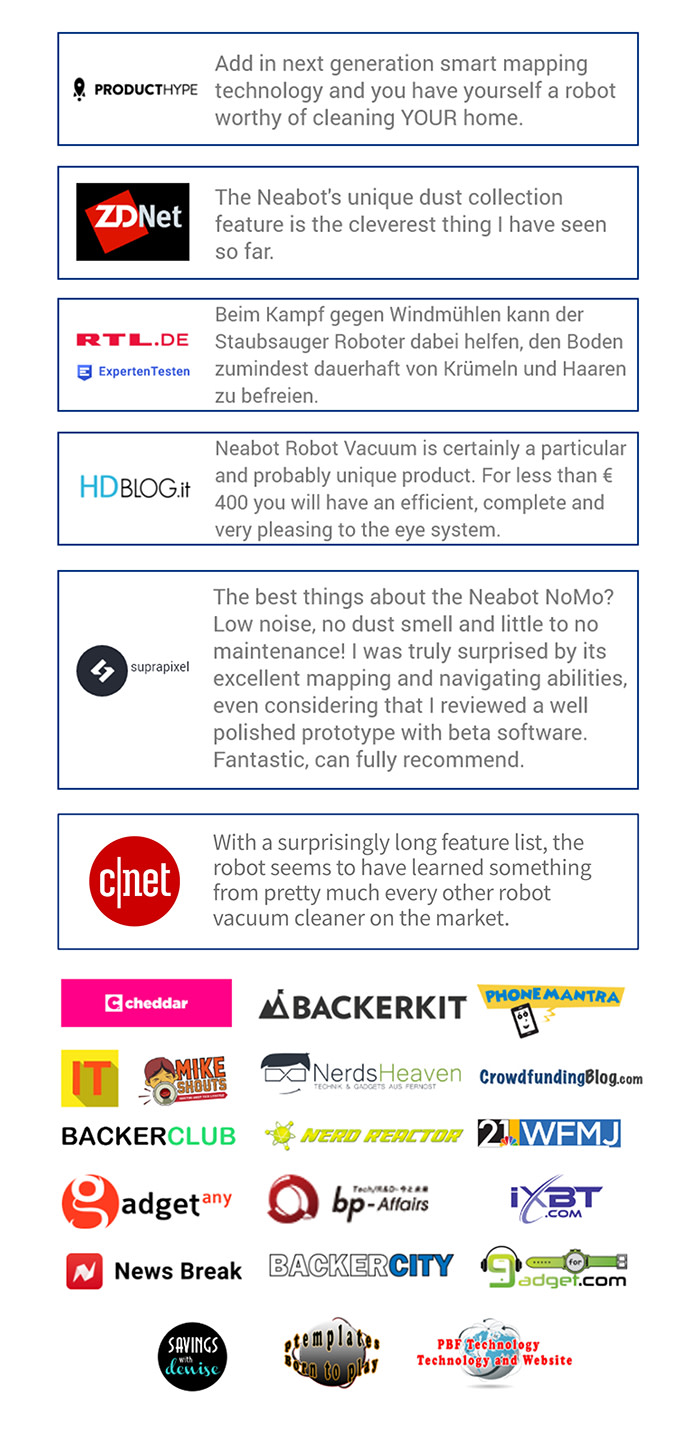 Thanks for the review from @Byte My Bits!
Neabot Q11 - Max suction, decent mop, auto-emptying!
Thanks for the review from @AdamsTechReviews!

FIRST TEST - Neabot Q11 Robot Vacuum w/ Front Facing LIDAR & Obstacle Avoidance 
Neabot Q11 Robot Vacuum w/ Front Facing LIDAR & Obstacle Avoidance - SPOT Clean + OA Info
Thanks for the review from @Robot Masters!
Thanks for the review in German from @
SmarthomeAssistent !
Neabot NoMo Q11 im Test - Der extrem flache Saugroboter mit Laser in der Front!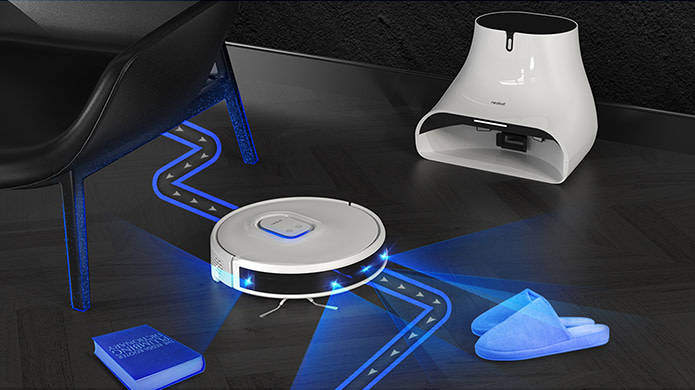 Built upon the dToF detection technology and 3D imaging algorithm, Neabot Q11's AI obstacle avoidance system features 4 beam LiDARs. As a cutting edge technology widely used in autonomous driving by leading self-driving car makers around the world, Beam LiDAR is characterized by its long detecting range and high imaging fidelity. It helps self-driving cars to see the world more clearly, so that the cars can plan better routes, and detect and avoid obstacles faster and more accurately. With this technology integrated, Neabot Q11 can accurately recognize chair feet, magazines, cables and pet droppings etc. For every cleaning task, Q11 optimizes the cleaning route and avoids obstacles, completing the task in the most effective and efficient manner possible. Q11 can accurately identify all kinds of small objects and stains, and adjust its course of action accordingly. You never have to worry about Q11 smearing dog poop all over your house, or getting tangled up by wires or other small objects.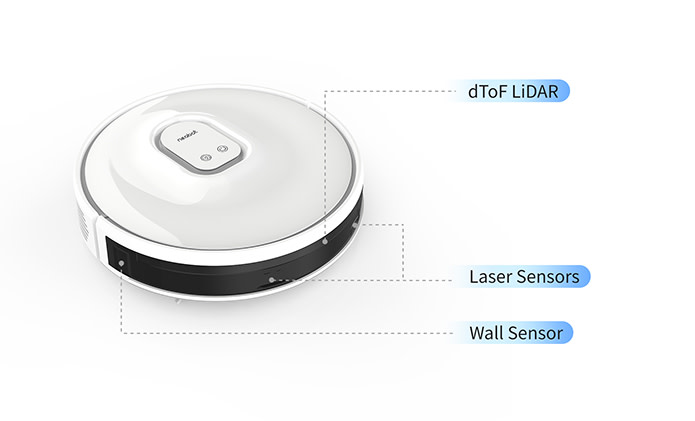 *Q11 may not recognize liquids, but can clean water stains on the floor. 
*Q11 does not have a camera to capture image so your privacy will never be breached. 
*Q11 does not recognize objects under 2cm in height.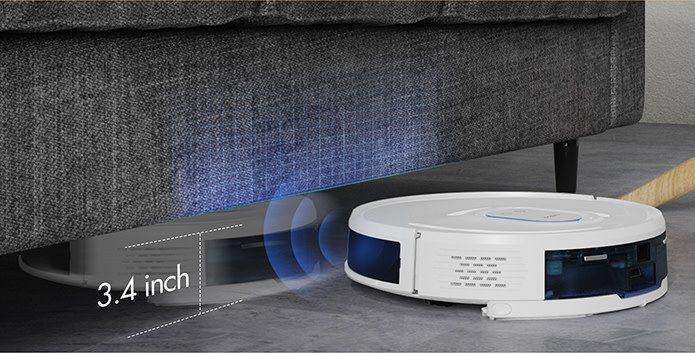 Unlike most robot vacuums with their radar stacked on top, Neabot Q11 hides the Beam LiDARs inside the body, significantly reducing the thickness of the robot. Q11 is merely 3.4" in height and can easily roam under sofas, beds and cupboards etc.
Traditional robot vacuums go only where you can see, leaving much of your floor unattended. We reduced the height of Neabot Q11 to a mere 3.4" by hiding the LiDARs inside, so that it can go under beds and sofas and such to give your house a much more thorough cleaning it desperately needs.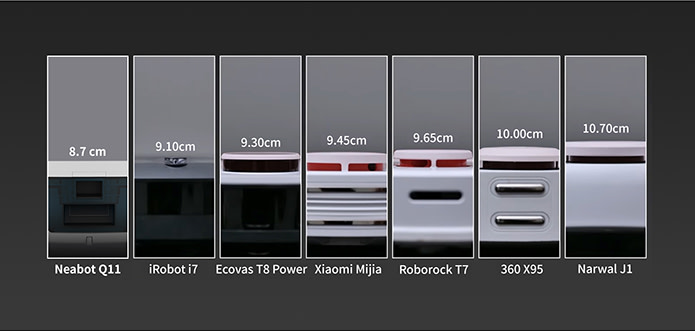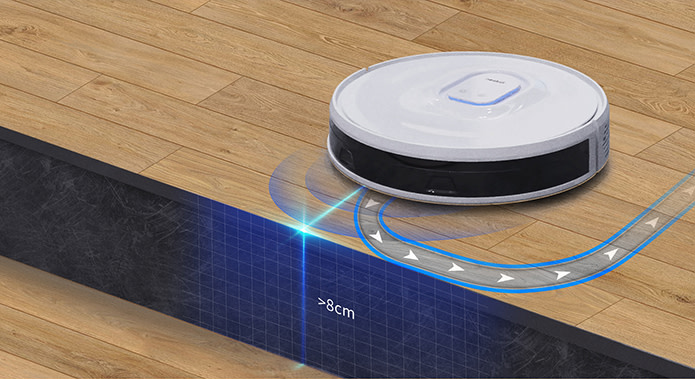 If you ever had a robot vacuum before, it's quite likely you've seen it tumbling down the stairs. That is never going to happen to Neabot Q11, thanks to those 4 most sensitive anti-drop sensors built in. This is a safety measure for the robot itself, your house, but most importantly you and your family.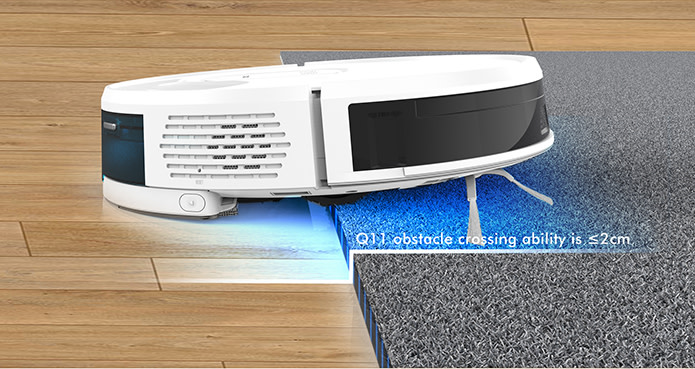 *NEABOT Q11 can climb on and off carpet from hard floor effortlessly. It can climb over obstacles ≤2cm.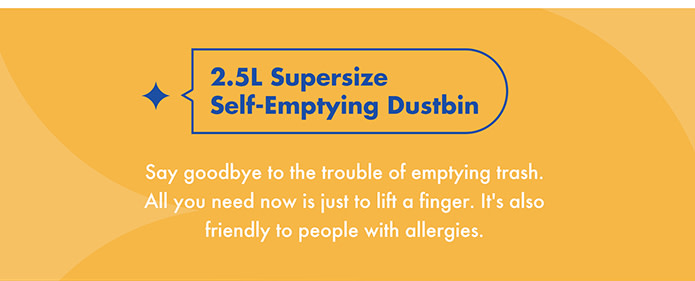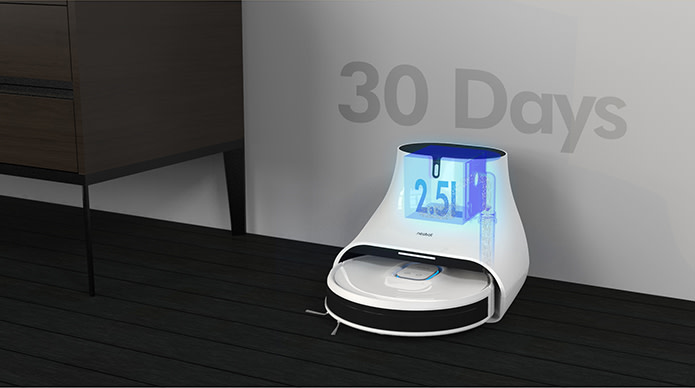 The base station also serves as a charging station. Whenever the robot is docked in, it is charging. When the batteries run low in the middle of a task, it automatically goes back to the base station for charging. In addition, the energy dense batteries built in could power the robot for 150-minute vacuuming or cleaning 2100sqft house. So you'll never have to be concerned about its batteries running low.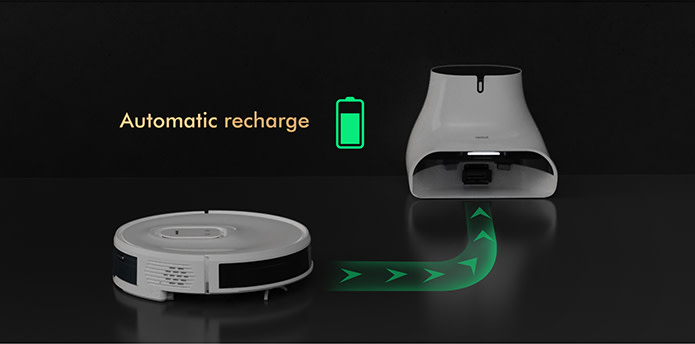 Neabot Q11 not only has a 250ml dust box built in the robot but also has a 2.5L supersize self-emptying dustbin. When the robot finishes a task and goes back to the station, trash in the dust box is transferred into the 2.5L self-emptying dustbin so you don't have to empty the dust box manually. The collector is big enough for trash of approximately 30 days, although it varies with the size of your house. When it's full, all you need to do is lifting your fingers to take it out.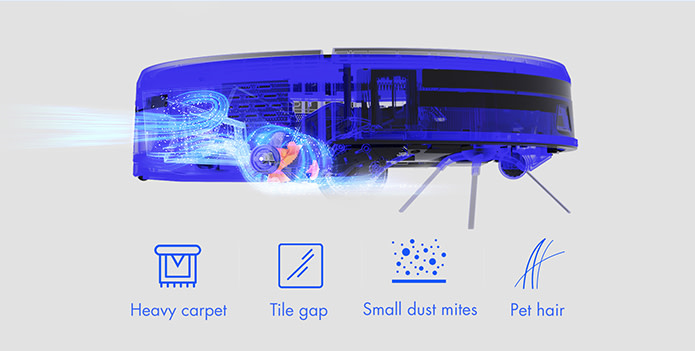 What does it mean for a robot vacuum to have a suction power of 4000Pa? To put it in perspective, most competing products in the market are between 1,000pa and 2,000pa. Neabot Q11 boasts a suction power of 4000Pa. This may seems unreal considering its compact size. But that's what NEABOT Q11 is.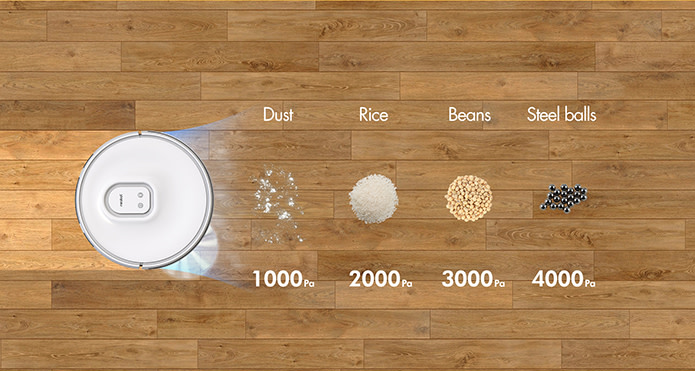 No matter it's flour, grains, beans or even marbles, the powerful Neabot Q11 can handle with ease. Wherever Neabot Q11 has scrolled by is spotless. Now you don't have to worry about your kids running around the house bare-footed. Manual vacuuming? Never again!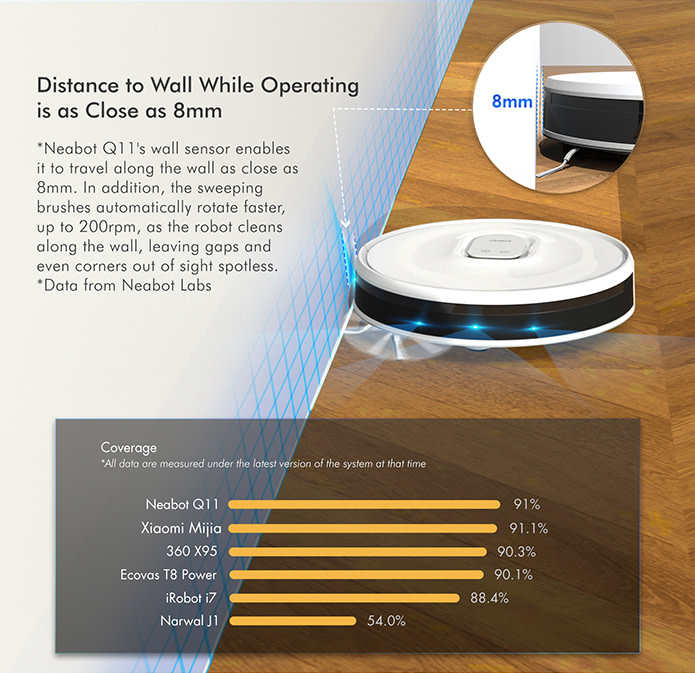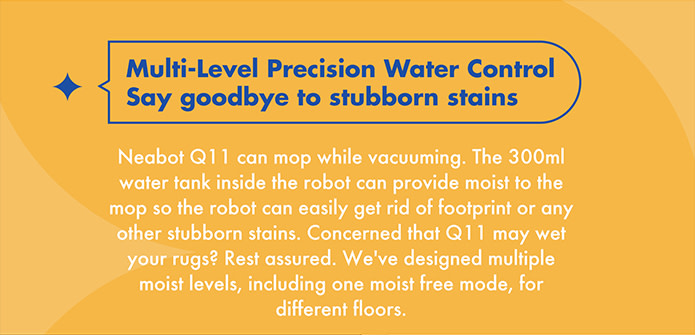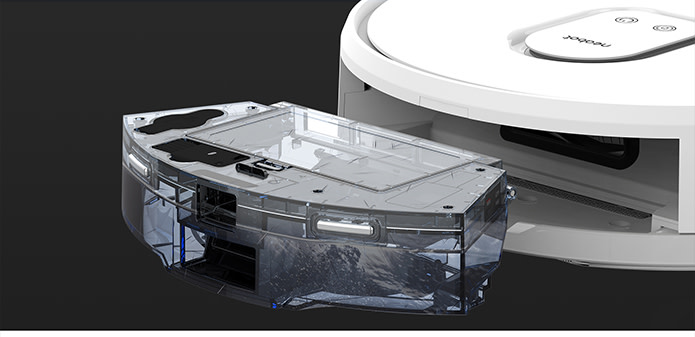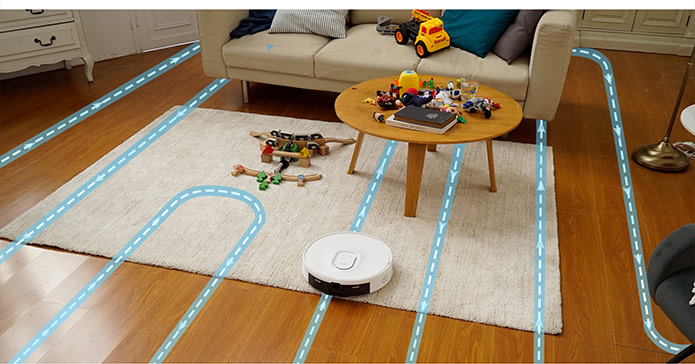 Semi-Enclosed Leak Proof Structure
The base station of Q11 is in a semi-enclosed structure that prevents water from leaking out of the mop. Water overruns and soaks up your beloved wooden floor? Never happens.
HEPA Filter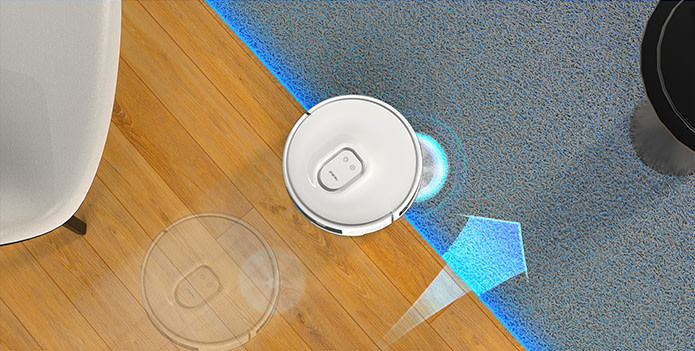 Smooth surfaces such as marble floor needs vacuuming plus wet mopping, while carpets and rugs are best cleaned with stronger suction power. Neabot Q11 has different cleaning plans for them all. On carpets and rugs, it automatically increases suction power to 2500Pa to get rid of dust deep down the plush. On hard floors, the robot automatically decreases the suction to save energy.
* Turn off mopping when vacuuming carpets and rugs.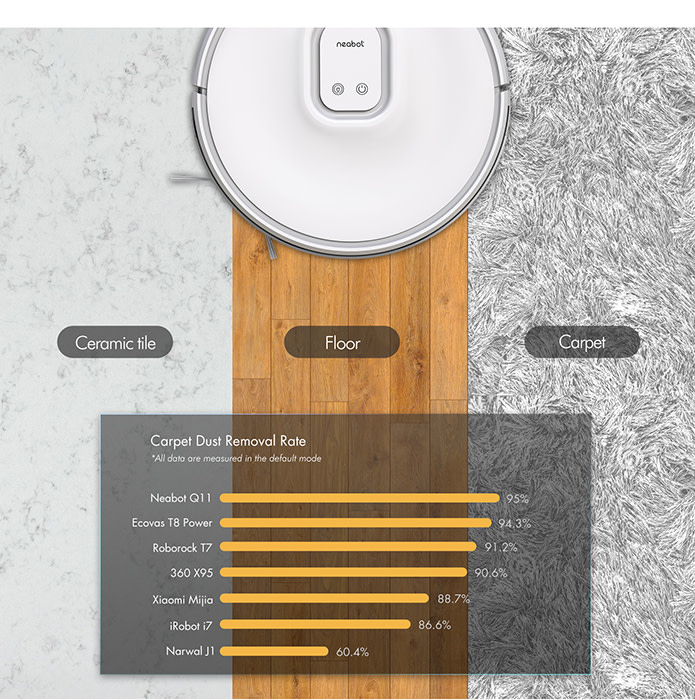 What makes a great cleaning robot? Neabot Q11 sets the bar to a new high. 200 rmp for sweeping, 4000pa for vacuuming and 4-level precision water control for mopping, Q11 is literally an all-rounder. And that is what makes a good cleaning robot.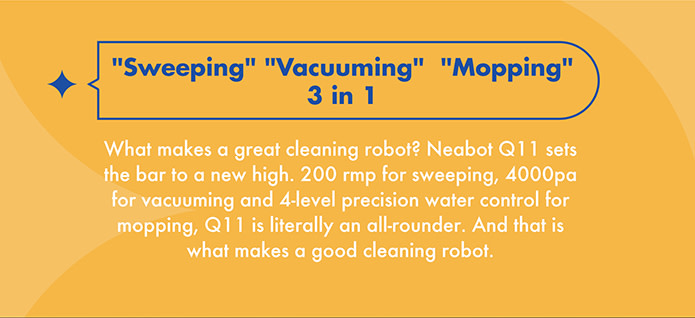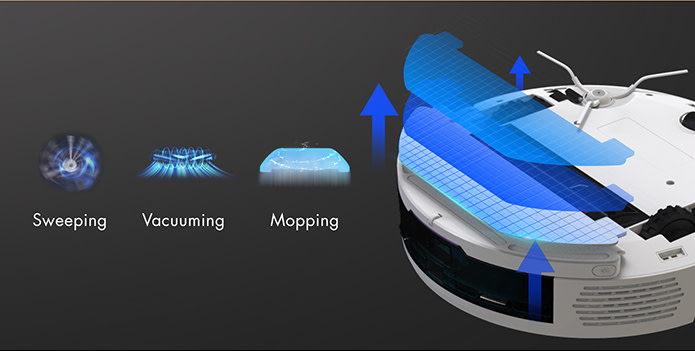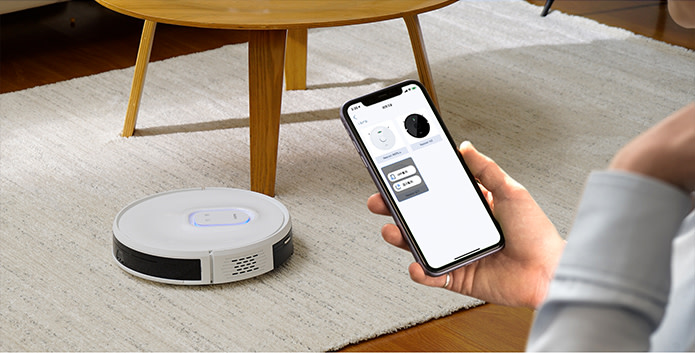 Remote App Control
We've designed an app specifically for Neabot Q11, on which you can monitor & control the robot, schedule cleanings, and set cleaning areas as well as virtual no-go zones even when you're away from home, saving you the trouble of placing physical obstacles to stop the robot for entering certain parts of your house. You can also manually control the robot on Neabot APP, which displays in over 20 languages and voices. We want you to be able to operate the machine in your most familiar language.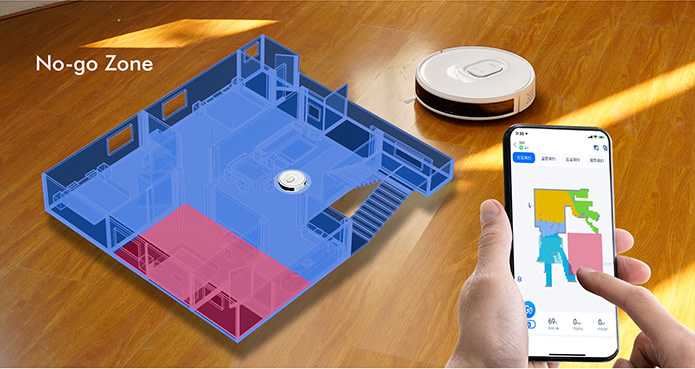 Multi-Floor Mapping
You have a big house of multi-story? That's no problem for Neabot Q11, as our Neabot APP can store up to 3 separate maps. No matter which floor it is on, Q11 will know which map to use and there's no need to do remapping.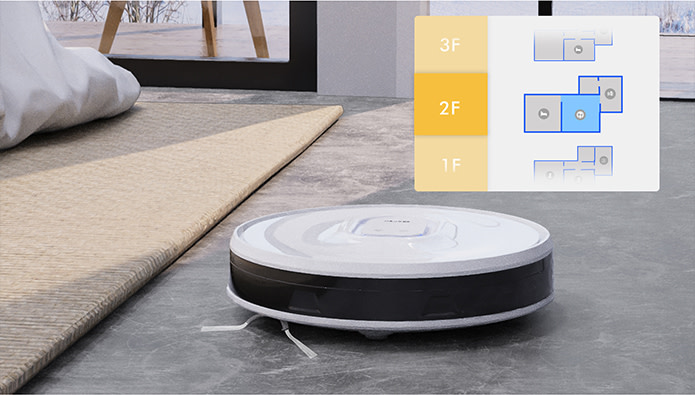 Bluetooth Assisted Network Configuration
While most cleaning robots can only be paired with your smart phone via wifi, which sometimes can be a rather disheartening experience because of failures and delays, Neabot Q11 provides you an alternative, Bluetooth. It's much simpler, faster and more reliable.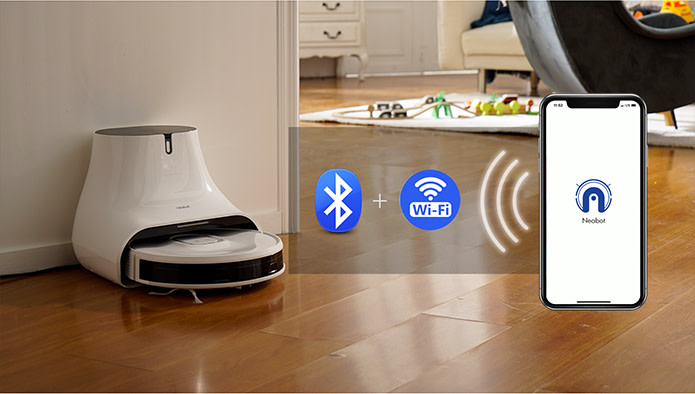 Neabot Q11 has a suction power of 4000Pa, one rarely seen in robot vacuums of comparable size. That doesn't give us reason to settle for less noise cancellation. Instead, we have many smart designs and delicate mechanisms to reduce Q11's noise level, so it'll leave you and your family undisturbed for work, study, a nap, a movie, yoga exercise and even meditation.
*Noise level varies under different work conditions. Under Silent Mode, 650pa suction, Neabot Q11 is 65dB.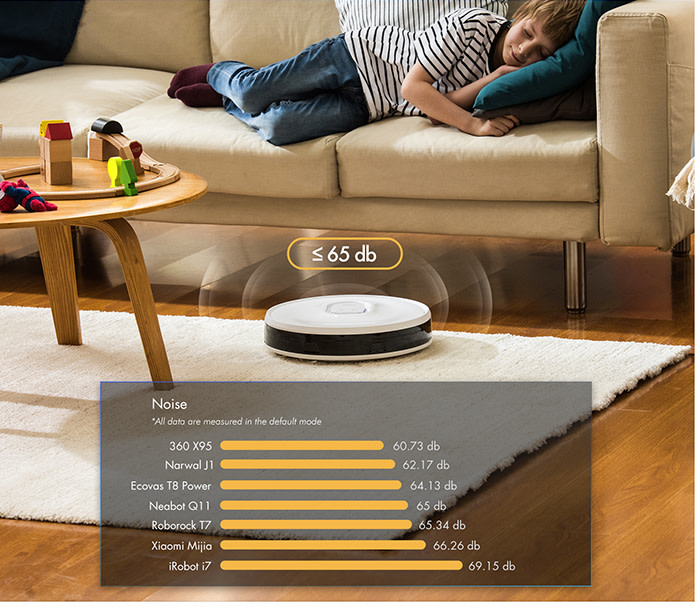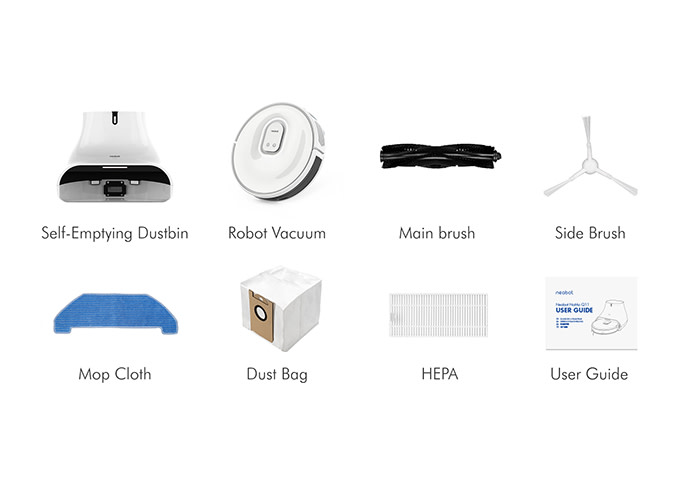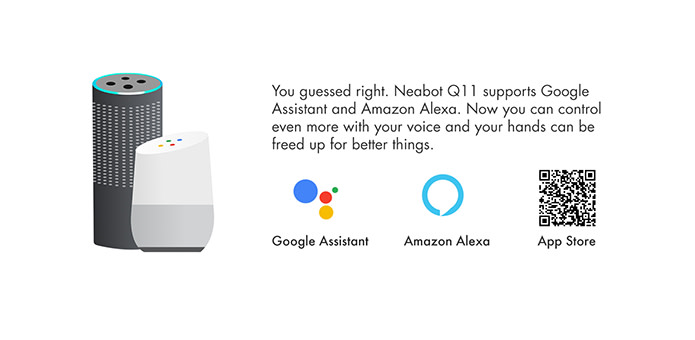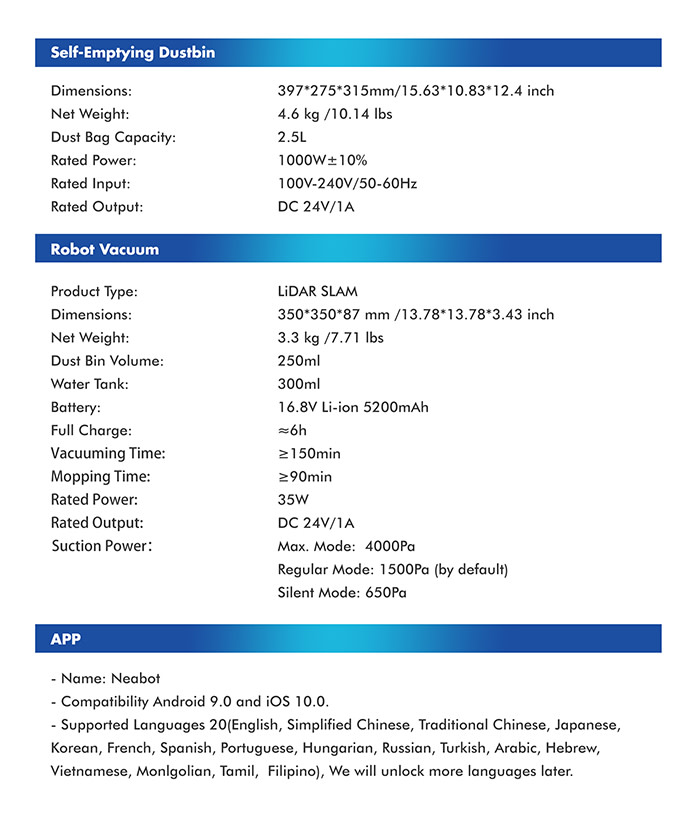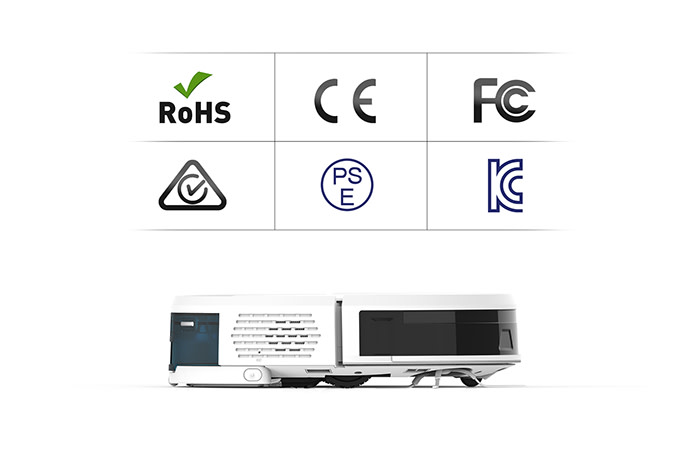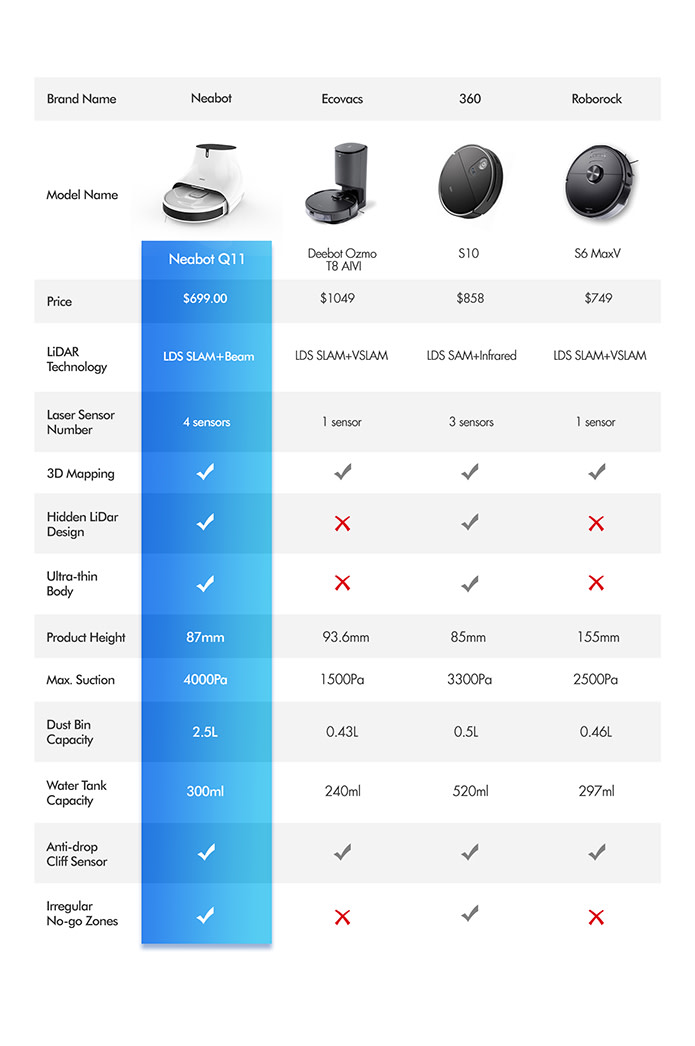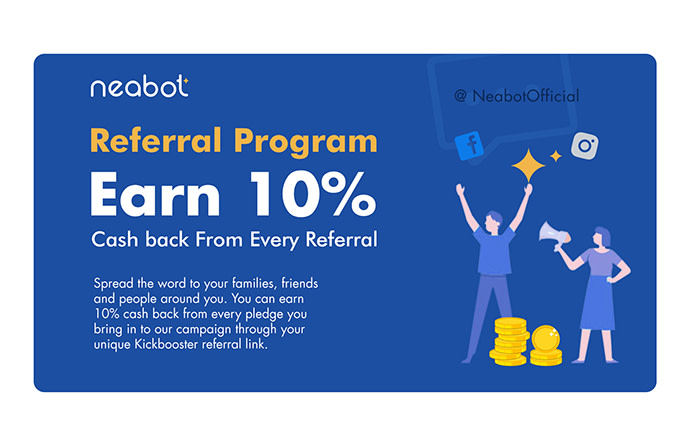 Who Are We?

Neabot Tech Co.,Limited was founded in 2018 with a mission of providing every household better home cleaning experience. We have one single minded purpose – empower people to spend more time on things they love and less time on chores. Neabot launched its first NoMo N1 on Kickstarter in May 2020. Neabot products can be found in 15+ countries in North America, Asia and Europe. We are developing new products and several of them will be launched in 2021. Neabot has offices in Shenzhen, China and Los Angeles, USA.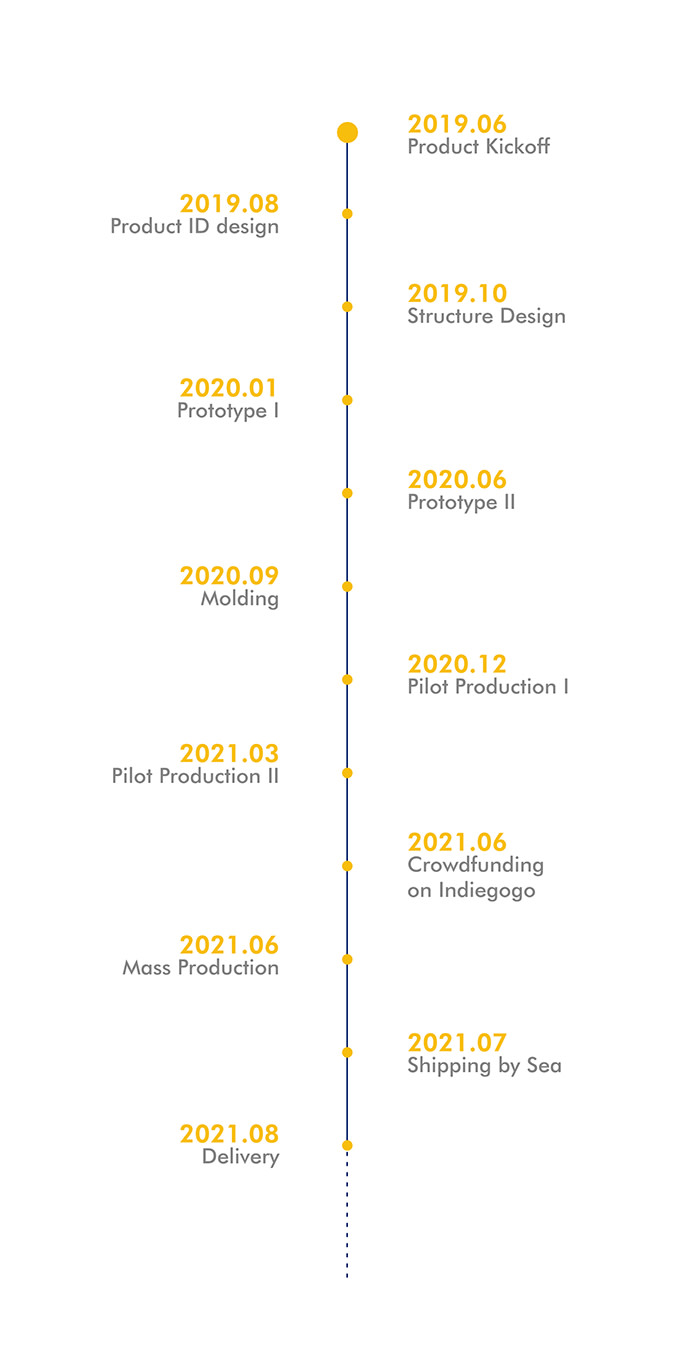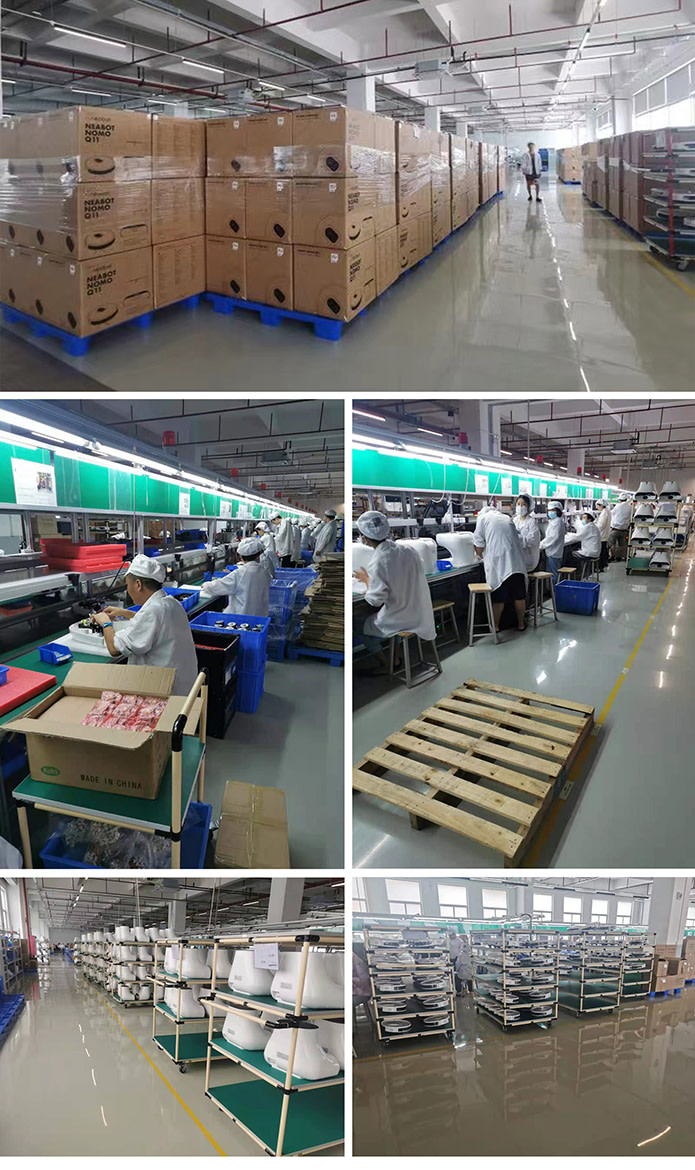 FAQ
1. Warranty
Neabot warrants that the robot & self-emptying dustbin shall be free from defects in material and workmanship for a period of one (1) year from the date of purchase when it is used under normal household conditions and maintained according to the requirements outlined in the User Guide.
Note: As far as applicable laws permit, the warranty period will not be extended or renewed or otherwise affected due to subsequent exchange, resale, repair or replacement of the Product.
If you wish to make a warranty claim, please contact us via support@neabot.com
Note: Please provide your order information in the email.
2. Return Policy
Please understand that we only accept returns for quality reason. Any returns due to no reason or without notification will be refused.
All products must be returned in good condition, in original boxes (whenever possible), and with all accessories.
If you receive a damaged or defective product, contact Neabot team within 30 days of delivery via email: support@neabot.com. Please have your order number available when you contact us.
3. Return Address
Neabot have warehouse located in Europe, Japan, United States. We will provide the address via email if needed. If you live outside of these places, please contact us via support@neabot.com.
4. Do you ship worldwide ?
Unfortunately, we currently only support shipment to the countries and areas as followed:
Asia: Japan
North America : United States, Canada
Europe: all EU countries. UK is not included.
5. Do I need to pay extra delivery fees ?
Yes, the delivery fee is not included in the product price. The standard freight is $29. (The size and weight of this product are relatively large, even bigger than Neabot N1. In fact, the shipping cost will be much more expensive than $29.)
6. What about the customs fees ?
Normally, you won't be charged with custom duties since Neabot Q11 will shipped to our overseas warehouses first in bulk. However, if you ever encounter this issue, please contact us via support@neabot.com and we will cover any potential custom duties.
7. What power-outlet will you ship to Denmark?
Yes, we will ship to Denmark. It's standard EU voltage and plug. 
8. Could you please list how this model is better/different than the previous Neabot?
Q11 is much better/different than N1 (the first Neabot) in many ways.
a. It uses hidden LiDAR and dToF technology, which raises its obstacle avoidance capability to a whole new level. For example, N1 might pushes your slippers, Q11 won't. It can detect any obstacle as long as it's taller than 2cm.
b. The suction power - Q11 is 4000Pa, the max on the market. N1 is 2700Pa.
c. Q11 features a 300ml water tank, meanwhile N1 doesn't have mopping feature, N1Plus as but it's not electric controlled water tank.
d. Q11 saves 3 maps. N1 saves 1 map.
e. Q11 is slimmer, quieter and a very different design.
f. The cleaning efficiency rate is higher than N1 too. It's 91%, which is top of the industry.
---