Housewarming Gifts for New Home Owners
There's nothing more satisfying than moving into a brand new home and receiving a special housewarming  gift to make your space even better. They say that home is where the heart is, a quote used to express  how special the space we live in.
A housewarming party is a time to celebrate moving into a new home with friends and family. Gifts of compassion are always welcome and they enhance the life experience. Here are some housewarming gift ideas to get you started.


Best Tech Housewarming Gifts
1. Voice Assistant
Amazon Alexa, Echo, or any other virtual assistant makes a thoughtful and practical gift for housewarming. The virtual assistant can tell you the weather, set reminders on the news, and play music.
2.
Robot Vacuum Cleaner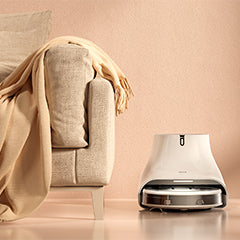 If a few friends are scraping together for a more expensive gift, this
robot vacuum
is the way to go. This robot vacuum cleaner can save a lot of time for busy homeowners. Just let the robot clean it.
3. Wireless Headphones
Wireless headphones are a great gift because they allow your friends to listen to music and podcasts without tangling cables. Many wireless headphones are high quality and waterproof.

4. A Security Camera
Nanny cameras are a thing of the past, and home security cameras are a whole new kind of technology. Give new owners peace of mind with state-of-the-art security systems that can be seen from anywhere.


Traditional Housewarming Gifts
A visit to your new home is an unforgettable opportunity. Celebrate an exciting start with a simple and compassionate gift. Consider these traditional housewarming gifts and check out our lovely sample messages to match yours.

1. A Bottle of Wine or Spirits
"Always be happy and never be thirsty."
Homeowners who love fine wine and spirits will love this classic housewarming gift. This is an especially perfect gift for a family with a new bar.

2. Olive Oil
"May you be healthy, happy and healthy."
A bottle of high-quality olive oil is a great gift for any home cook. Special olive oils can be used to spice up bold dishes or for adventurous baking recipes.

3. Honey
I hope you always enjoy the sweetness of life. "
Honey from the tombs of pharaohs in ancient Egypt is said to have been edible for thousands of years. Your loved ones are sure to appreciate this sweet and timeless gift. Honey jars can also be used to decorate homemade fruit baskets!

4. Candles
Candles are actually a traditional housewarming gift, passed down from generation to generation to new homeowners. It is said to bring news of "a house full of light and happiness". No one knows where this tradition started, but you will no doubt give them a candle. For a more modern touch, you can offer candles with strong scents. For example, if your friend is far from the beach, give him a candle that smells of the ocean to remind him where he came from. Candles can also be personalised for a special touch. A beautiful set of beeswax cone candles is also popular, especially for Easter, Christmas, Hanukkah or other important holidays.


Happy Housewarming!
Most new homeowners don't build their homes from scratch and heat them with firewood brought in by neighbors, but home heating still happens every day. A suitable gift can make you feel at peace.

Consider this list of ideas as a gift for our housewarming party. Now it's your turn to make some suggestions on things you might like or need! Check more robot vacuum cleaners on neabot.com.
---